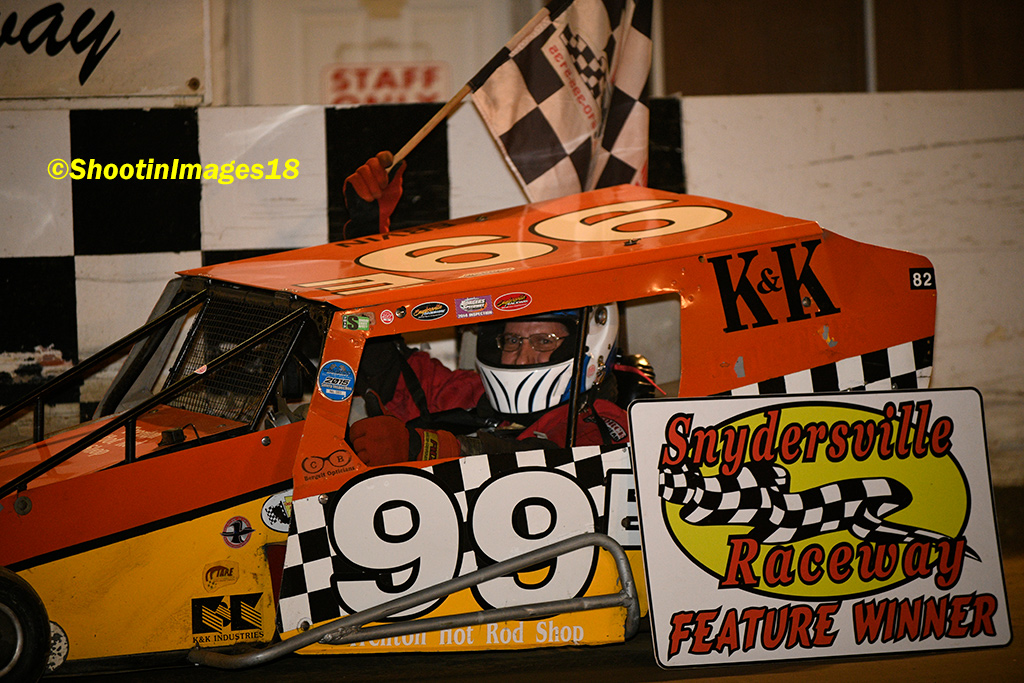 The racing was nothing short of exciting Friday as fifty cars duked it out for the win in the highly competitive classes. The night was filled with specialties as the Famed Checkered Flag Fan Club stopped in to give the feature winning CFFC members an embroidered jacket, plus 2 specialty races added to the cards. One of the specialty divisions on the evening, The Microstock Racing League, saw the 1994 and 2002 Snydersville Microstock champion Tom Ervin park it in victory lane at his old stomping grounds. Ervin led every lap of the feature and was fastest overall in the division. Jim Counterman finished runner up behind Ervin, and the Hard Charging Tyler Wagner rallied his way up to a third place finish. James Counterman Jr. put on a good run early but lost the third place spot on the last restart to finish in fourth, and Jeff Weinacker rounded out the top five in the MRL Tour. 6th- Noel Scheffen, 7th- Larry Ealey, 8th- Richard Ptaszynski, 9th- Keith Mellars, 10th- Bob Wagner.
Brandon Walsh ran a flawless race in the Jr. Sportsman Champ Money Race holding off many the hard charging Jr. drivers to take home the $150 win. Defending Point Champion Cadence Freeman came up short at the finish line to get second. Tre Mammana showed a great deal of speed to take home a top three finish. After missing a few weeks, Ian McGuire drove his way to a solid fourth place finish and Griffin Hendershot struggled from front end damage to bring a top five finish.
Here is the rest of the results from Friday:
Kid Karts
1. Mason Jenkin
Briggs Stock Light
1. Blaze Croop
2. Matthew Rodenbach
3. Austin Rutkowski
Jr. Sportsman
1. Griffin Hendershot
2. Austin Sieberg
3. Jayce Brown
4. Cadence Freeman
5. Eric Lieb
6. Donald Kohler
Briggs Stock Heavy
1. Matthew Rodenbach
2. Rich Whitman
Microstock Animal 206
1. Tom Arntz
2. Timothy Flyte
3. Matt Ackerman
4. Dillon Emmons
5. Eddie Geiger Jr.
6. Matt Gyurkovics
AllStar Slingshots
1. Dillon Emmons
2. Jason Kraycirik
Sr. Animal Champ
1. Ben Demott
2. Joe Yakarino
Jr. Slingshots
1. Tucker Cole
2. Wyatt Taschler
Sr. Flathead Champ
1. Bob Wilson
2. Cody Quagliato
3. Jeff Shire Jr.
4. Paul Valent
5. Chris Hendershot
6. Ashleigh Fogel
7. Jack O'Connor
8. Sami Martinsky
9. Kenny Maconeghy Jr.
Wing Champs
1. Ben Demott