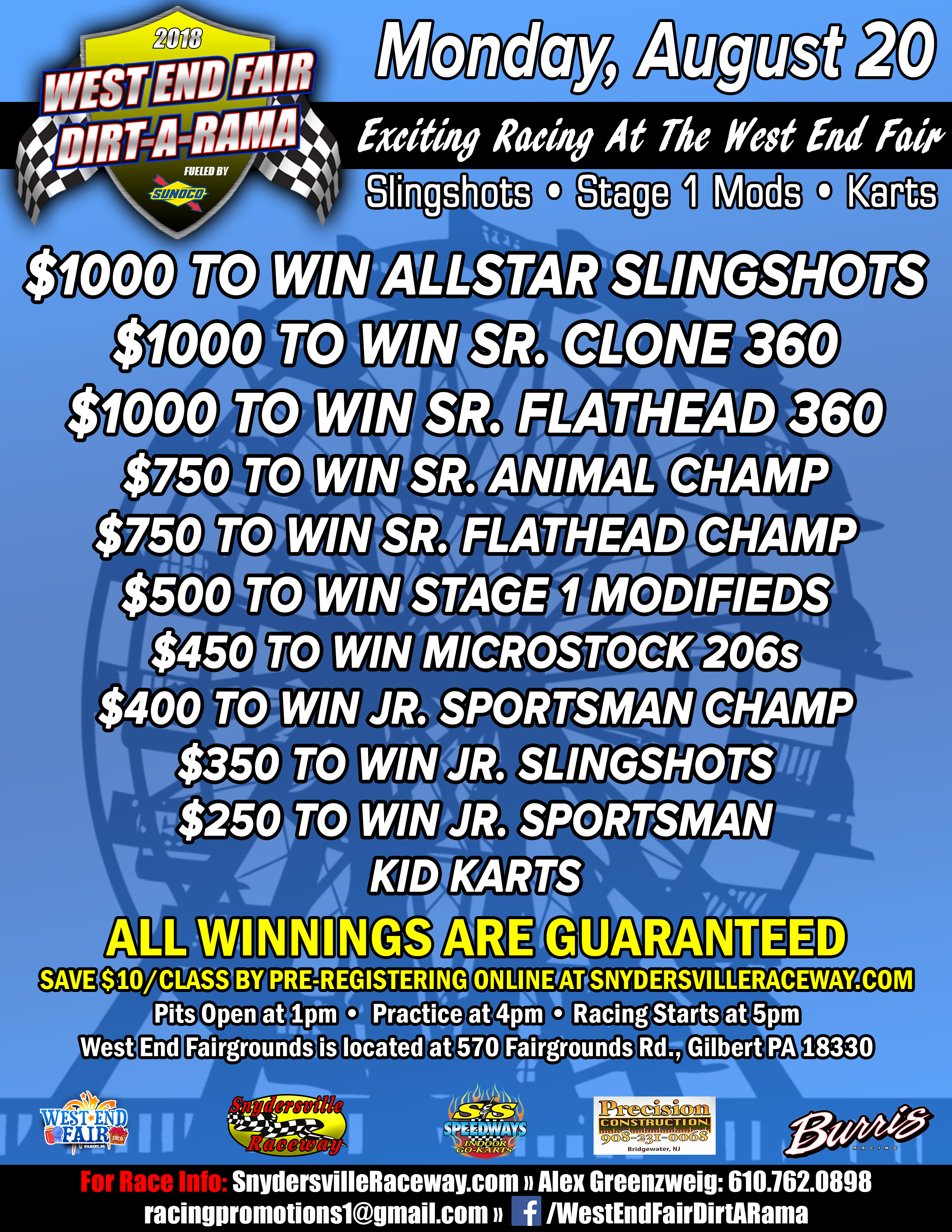 MONDAY, MONDAY, MONDAY!!!!
Mark your calendars for Monday, August 20 as the 4th Annual West End Fair Dirt-a-Rama gets set for another exciting year of dirt racing at the fair! This year the MONEY WILL BIGGER & BETTER!!! Last year over 145 cars packed the pits for an exciting evening that paid over $13,000 in Payout and Prizes, and we are looking at a BIGGER ENTRY COUNT FOR THIS AWESOME RACE IN 2018. This is event you don't want to miss! Come join us At the West End Fair! Details are listed below:
CLICK THE LINK TO PRE-REGISTER FOR THE WEST END FAIR ONLINE & SAVE $10/CLASS BEFORE AUGUST 17. –> https://snydersvilleraceway.com/18-west-end-fair-dirt-a-rama-pre-registration-form/
2018 DIVISONS FOR THE FAIR:
• $1000 TO WIN ALLSTAR SLINGSHOTS
• $1000 TO WIN FLATHEAD 360
• $750 TO WIN SR. ANIMAL CHAMP
• $750 TO WIN SR. FLATHEAD CHAMP
• $500 TO WIN STAGE 1 MODIFIEDS
• $450 TO WIN MICROSTOCKS
• $400 TO WIN JR. SPORTSMAN CHAMP
• $350 TO WIN JR. SLINGSHOTS
• $250 TO WIN JR. SPORTSMAN
PLEASE CHECK AGES & DIVISIONS AS WE DO EXPAND THE AGES TO REACH ALL GROUPS WITH THE CLASSES WE LIST. CHECK THE SPECS FURTHER DOWN!