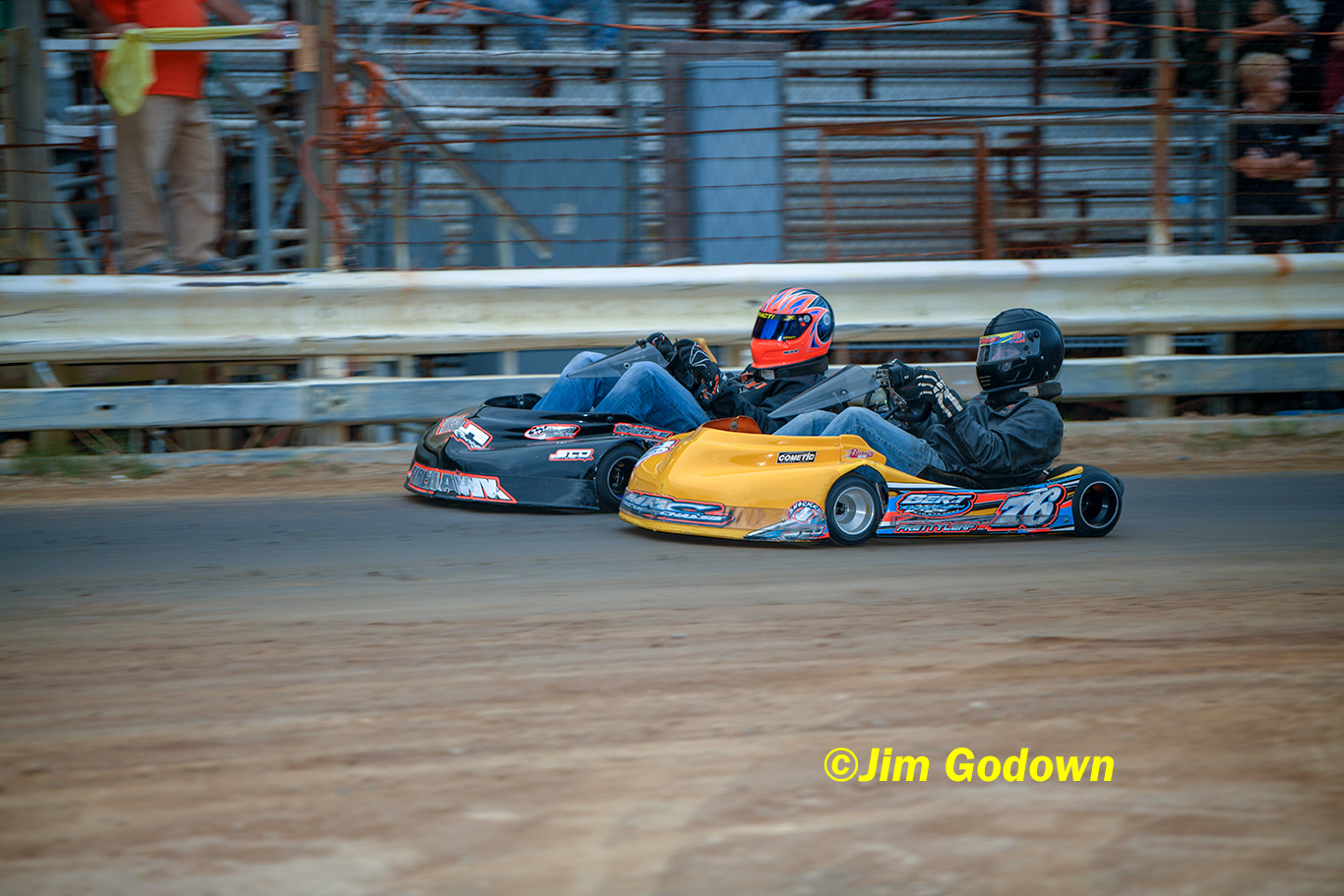 Racing returned to the West End Fair for the 5th consecutive year of Dirt-a-Rama. The race pulled drivers from all over the eastern seaboard to run under the Monday Night lights during one of Northeastern Pennsylvania's most popular fairs, and have a crack at the over $12000 in cash prizes up. 138 entries filled up the 11 divisions of Karts, Champs, Microstocks, Slingshots, Stage 1 Modifieds, and Outlaw Karts, providing exciting side-by-side action. Fans piled in the stands as well to take in the action that the 1/7 mile dirt oval had to offered and would get their money's worth of racing action. Here is the results from the exciting night of racing at the West End Fair:
$1000 to win Flathead 360 presented by Greenzweig's Kart Shop
Quick Time: Quentin Graham, 13.746, 39.677MPH
Dustin Prettyleaf
Trevor Teats
Cody Sieber
Casey Steinhoff
Jason Wolfe
Kevin Miller
Teddy Reed
Jacob Foster
Kevin Greenawalt
John Wolfe
John Hoffman
Quentin Graham
Michael Lybolt
Scott Thomas
Dylan Labar
Alex Kolonics
Anthony Roselli
Walter Gilbert
Josh Hare
Jacob Rayson
Alex Arndt
Ryan Neese
Michael Markey
DQ: JJ Pacovich (Failed Post Race Tech)
$350 to win Microstocks presented by Billy's Body & Paint
Quick Time: Tom Arntz, 14.603, 37.348MPH
Tom Arntz
Dillon Emmons
Matt Ackerman
Timothy Flyte
Isiah Flyte
Jarred Rehrig
Matt Gyurkovics
Kevin Reimert
DNS: Steven Frindt
$250 to win Jr. Sportsman presented by MHK Attorney's
Quick Time: Bradley Wagner Jr., 14.223, 38.346MPH
Bradley Wagner Jr.
Evan Madagan
Lane Snook
Brandon Walsh
Hailey Eroh
Griffin Hendershot
Eric Lieb
Stephen Laubach
Lydia Navarro
$500 to win Sr. Animal Champ presented by Kelly Racing Fuels
Quick Time: JJ Pacovich, 13.761, 39.634MPH
JJ Pacovich
Dustin Prettyleaf
Austin Roush
Trevor Teats
Kevin Greenawalt
Alex Kolonics
Eric Freeman
Billy Proctor
Alex Wanerus
Jeremy Tuttle
$350 to win Jr. Slingshots presented by R.G. Hoffman Electrical Contractors
Quick Time: Tyler Ulsh, 14.485, 37.653MPH
Aidan Donaldson
Tanner VanDoren
Paul Hartwig III
Tyler Ulsh
Wyatt Taschler
Doug Smith
Zack Cox
Chase Zimmer
Charlene Benz
Matthew Backus
$1000 to win AllStar Slingshot presented by S&S Speedways and Amsoil Racing
Quick Time: Jared Silfee, 13.870, 39.322MPH
Jared Silfee
Scott Neary
James Benz
Cody Kline
Matt Mertz
Kyle Herve
Dillon Emmons
Austin Silfee
Shelby McLaughlin
Mason Pittenger
Brian Smith
Andrew Turpin
Brett Bieber
James Mohr
Jason Kraycirik
Mark Mohr
$1000 to win Clone 360 presented by Burris Racing Tires
Quick Time: Quentin Graham, 13.544, 40.269MPH
Quentin Graham
Trevor Teats
JJ Pacovich
Cody Seiber
Owen Dimm
Dustin Prettyleaf
Todd Crenshaw
Josh Hare
Ryan Neese
Casey Steinhoff
Jacob Rayson
Eric Freeman
Dominic Roselli
Scott Thomas
Teddy Reed
Michael Markey
Jeremy Tuttle
John Hoffman
DNS: Michael Lybolt
$250 to win Jr. Sportsman Champ presented by Kevin Wieand Enterprises
Quick Time: Dylan Cordier, 14.625, 37.292MPH
Dylan Cordier
Lane Snook
David Cordier
Griffin Hendershot
Justin Teresak
Brandon Walsh
Jayce Brown
Hailey Eroh
Ian McGuire
Nick Pollack
Tre Mammana
Bradley Wagner Jr.
Michael Sinagra
Cristofer Buehl
Kaleb Rawlins
DNS: James Horner
$250 to win PA Wing Outlaw Karts presented by Hill Side Vinyl & The PA Wings
Quick Time: Cliff Loss, 12.598, 43.293MPH
Cliff Loss
Jeff Metsger
Justin Care
Alex Ruppert
Russ Ludwig Jr.
Tom Arntz
Michelle Ludwig
Russ Ludwig III
$500 to win Sr. Flathead Champ presented by Oreville Kart Club/Snydersville Raceway
Quick Time: JJ Pacovich, 14.402, 37.870MPH
Austin Roush
Ron Ehrhardt
JJ Pacovich
John Martinsky Sr.
Trent Brewbaker
Steven Frindt
Randy Ehrhardt
John Martinsky
BK Rizzo
Cody Quagliato
DNS: Kenny Maconeghy Jr.
$500 to win Stage 1 Modifieds presented by Smith Fabrication
Quick Time: Tanner VanDoren, 13.234, 41.212MPH
Tanner VanDoren
Joel Smith
Anthony Chrobak
Joel Price
Lawson Szerencits
Mark Evans
We would like to thank everyone for coming out and supporting the show. We also want to thank all the staff and volunteers who helped put on the show. Finally, we want to thank our dedicated sponsors including Snydersville Raceway, RP Flurer Excavating, S&S Speedways/Hamlin Speedway, Oreville Kart Club, The West End Fair, Smith Fabrication, Silfee Services, Greenzweig's Kart Shop, Burris Racing Tires, Sunoco Race Fuels by Kelly Racing Fuels, Wicked Speed GraphX, Hill Side Vinyl, RG Hoffman Electrical, Billy's Body & Paint, Kevin Wieand Enterprises, MHK Attorney's, The PA Wing Series, Line RD Racing Engines, The West End Quarter Midget Club, and Amsoil Racing by Romeo Enterprises. Thanks for a great year everyone and putting on some amazing racing!